The nzyme v2.0.0 release train continues and version alpha.5 just arrived. It comes with a lot of new functionality around WiFi deauthentication/disassociation activity as well as several other improvements.
Let's take a look at the updates and changes!
Changelog
802.11/WiFi Disconnection Activity Detection, Alerting and Analysis
New 802.11/WiFi access point and client details pages
Improved organization and tenant selector
Several bugfixes and smaller improvements
802.11/WiFi Disconnection Activity Detection, Alerting and Analysis
WiFi attacks using deauthentication or disassociation frames (collectively called disconnection activity in nzyme) are very common.
This new nzyme release provides insights into disconnection activity across the entire recorded WiFi spectrum and also allows you to filter to only show activity related to your monitored networks: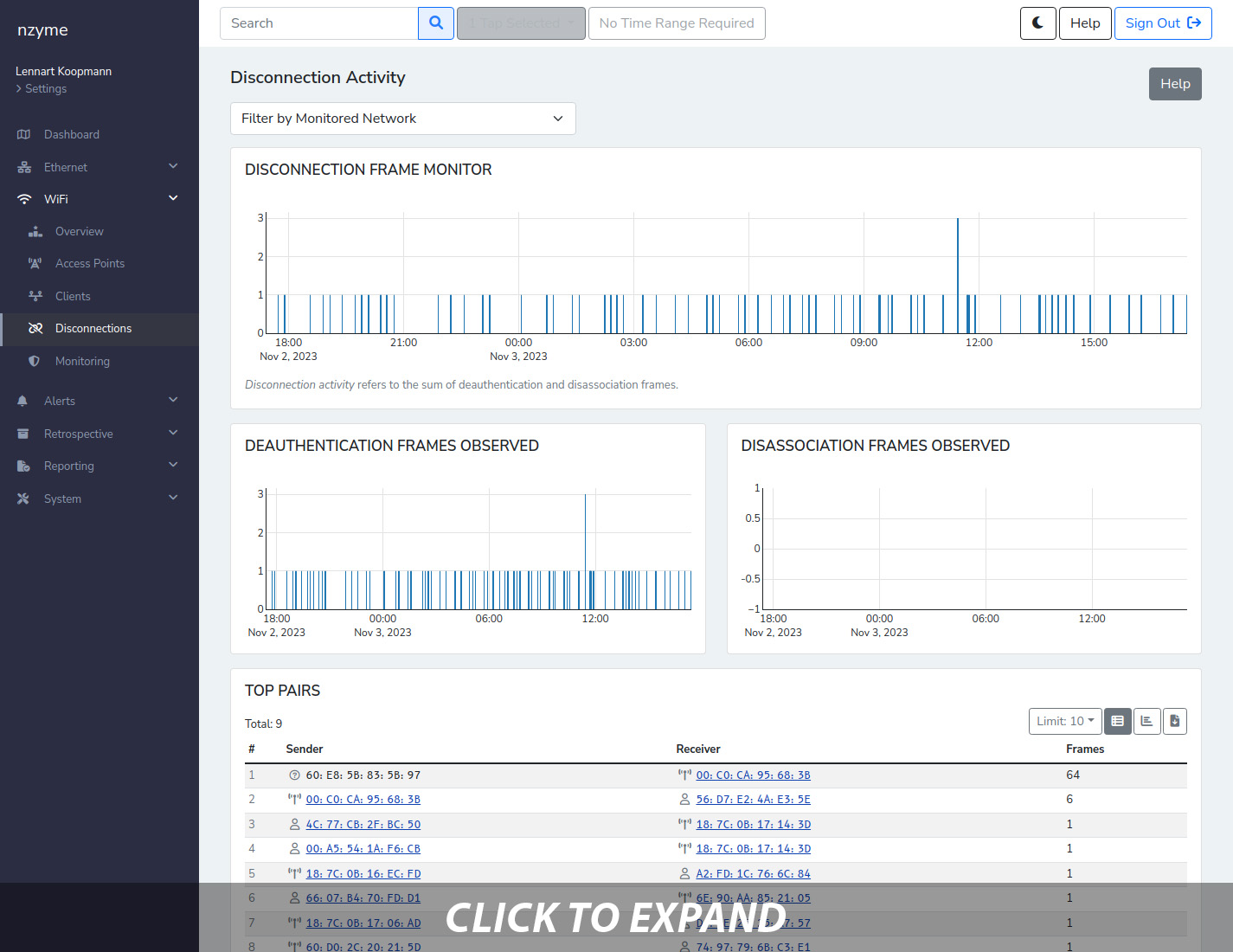 You can now configure nzyme to trigger alerts in case of anomalous disconnection traffic related to a monitored network;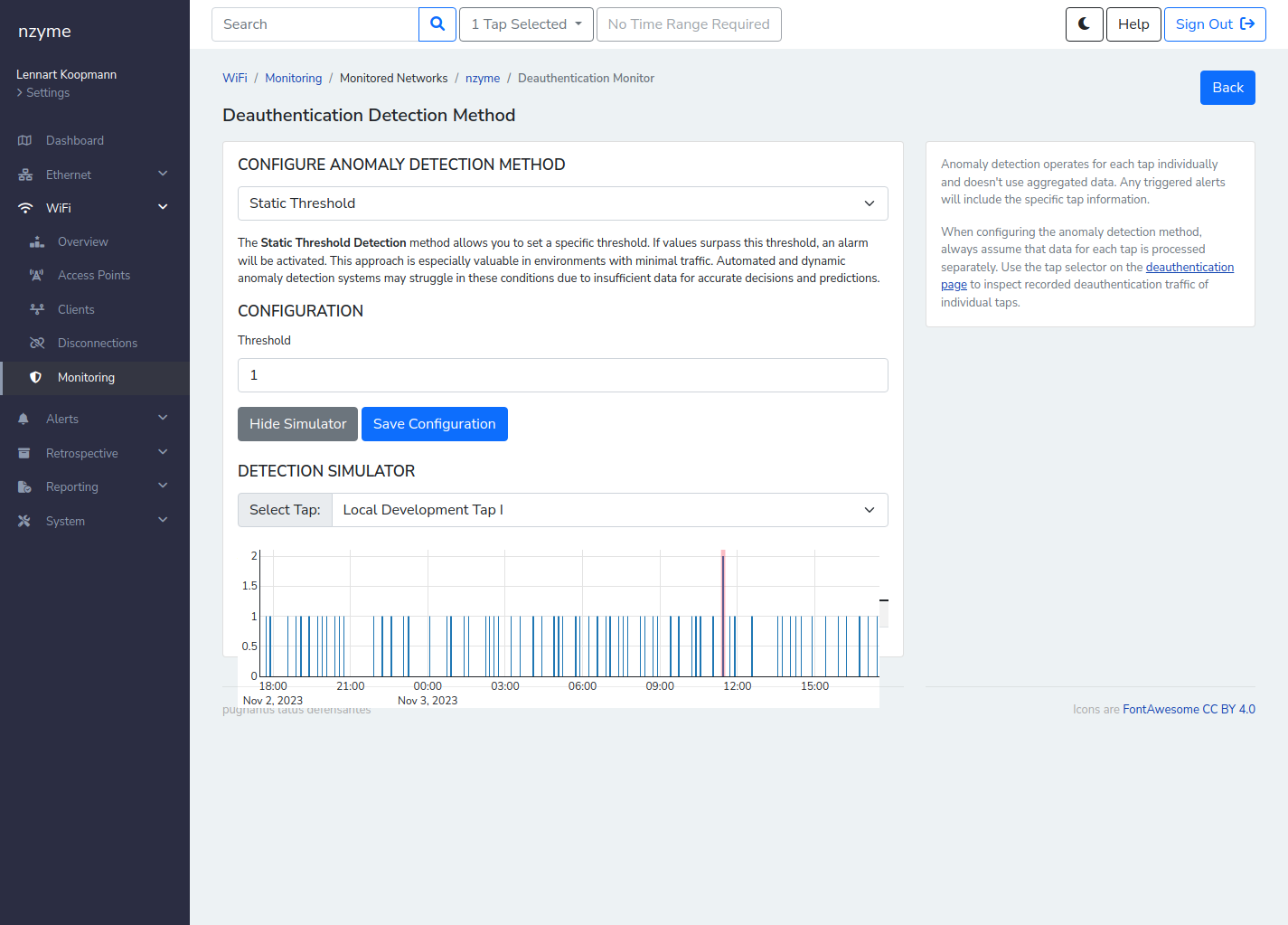 New 802.11/WiFi access point and client details pages
Previous nzyme versions offered you very detailed insights into the activity of an access point for a specific SSID it is serving. However, you sometimes want to see all activity of an access point, independent of a specific SSID or even channel.
The new access point and client detail pages offer you a huge amount of data that will provide context around a recorded MAC address and also help you understand behavior of any wireless station.
All 802.11/WiFi MAC addresses displayed in the nzyme web interface now indicate if they belong to an access point or a client and automatically direct you to the related details page.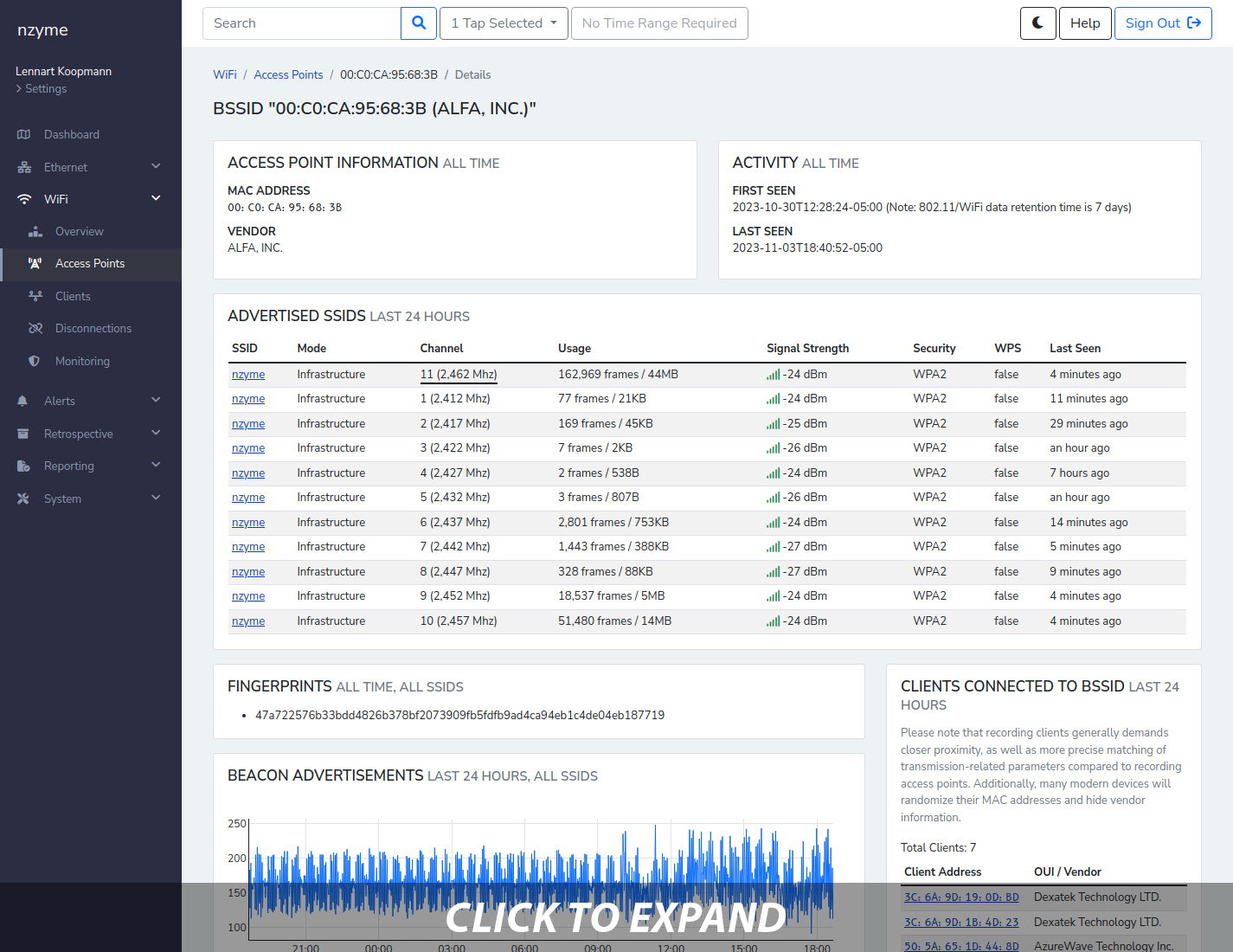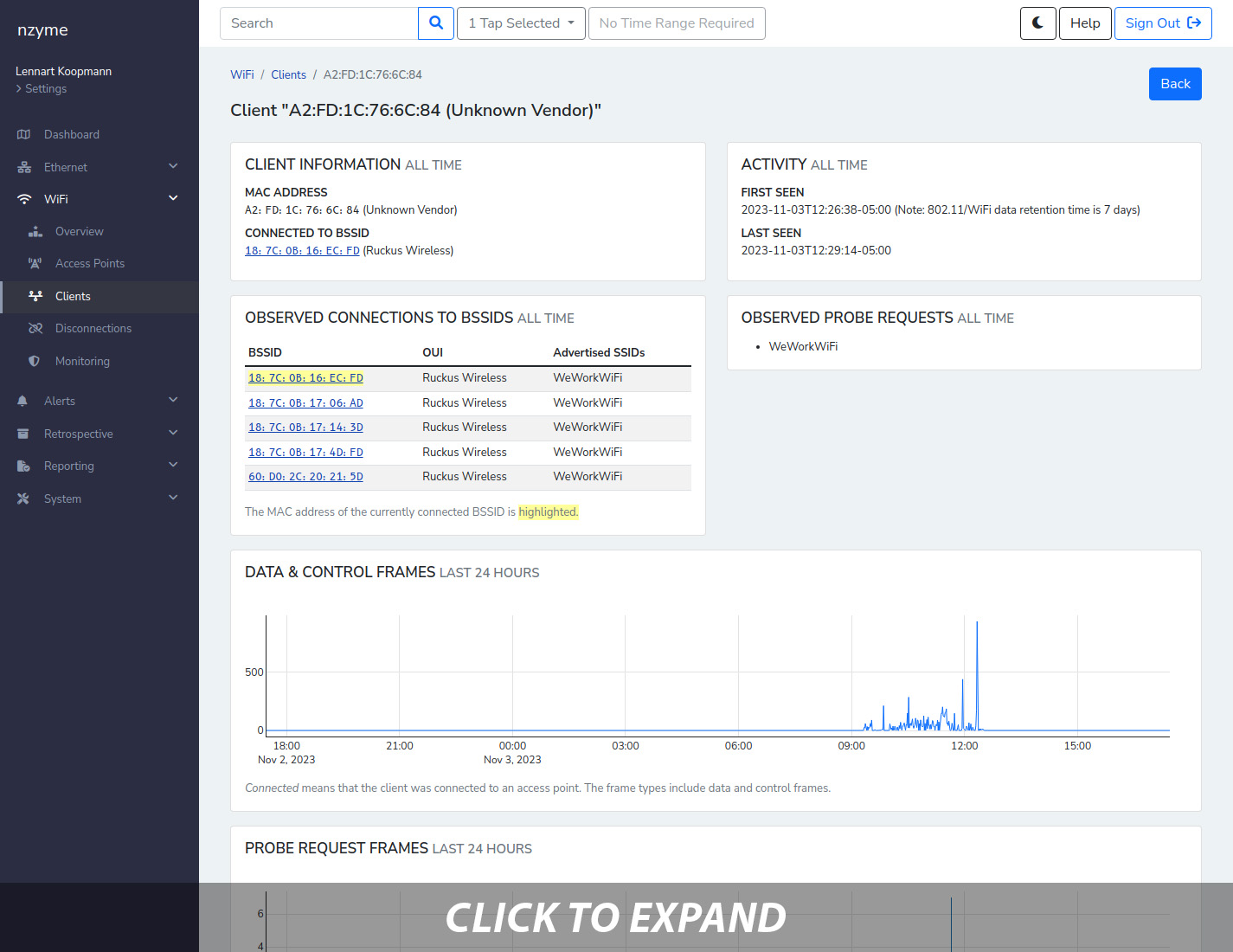 Improved organization and tenant selector
A small but hopefully time saving change: The organization and tenant selector is now automatically selecting the organization or tenant if there is only one of any configured. This avoids unnecessary clicks when logged in as super administrator or organization administrator.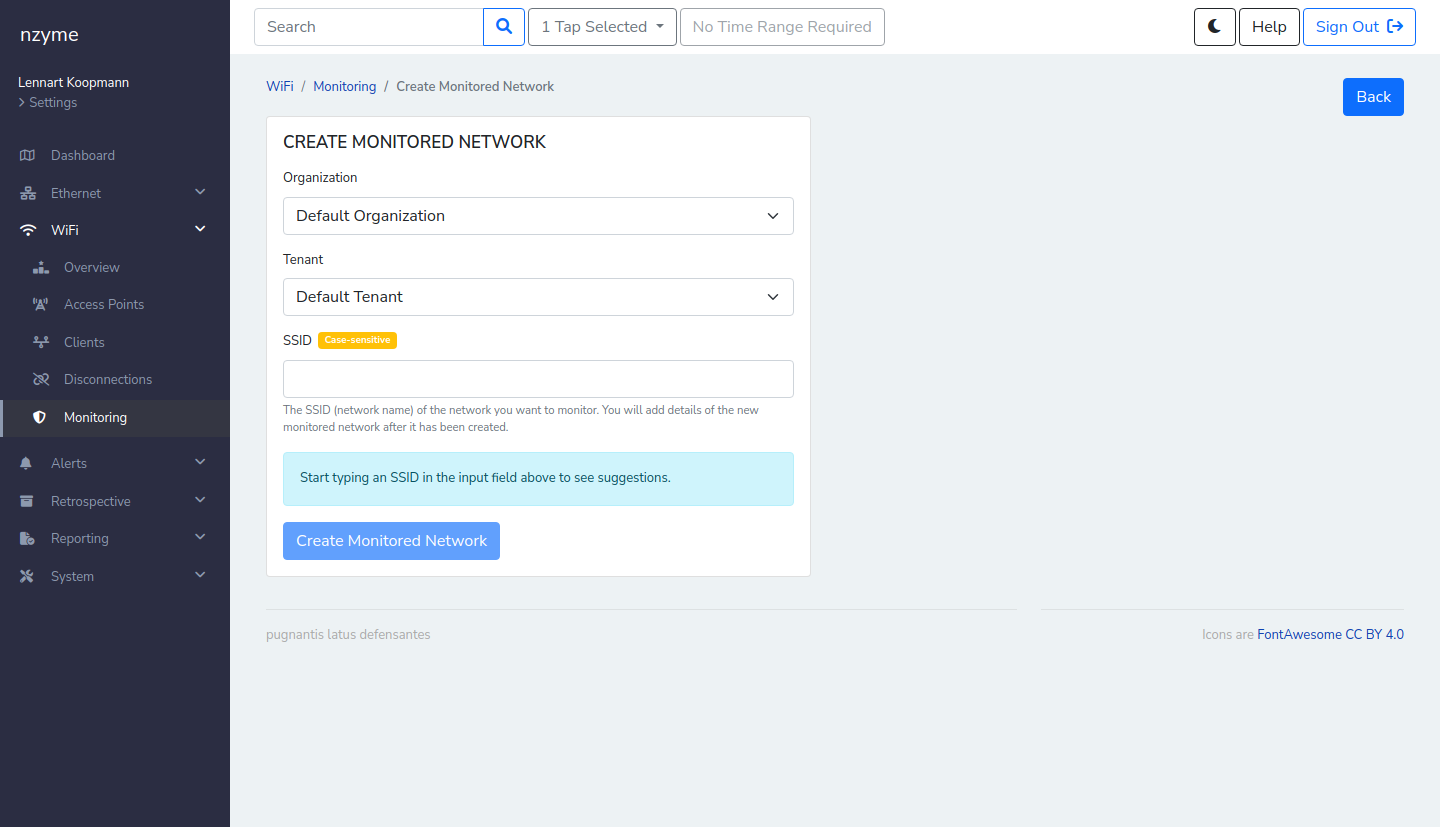 New Podcast: Last Week at nzyme
Here is a quick heads up that we launched a podcast. Well, kind of. It's really just a weekly episode in podcast format that goes over everything that happened at nzyme during the previous week. It's supposed to be short and crisp, without much listening effort required.
It's available on all popular podcast directories and also on this handy little website: https://podcast.lastweek.nzyme.org/
Download & Upgrading
All packages are available for download on the downloads page. Upgrading is easy. Please follow the release notes on the downloads page.
New installations should follow the installation documentation.
How can I help?
You are some of the first users to try out nzyme v2.0.0, and we are looking for any kind of feedback:
What didn't work, what bugs did you experience?
What was confusing or seemingly unnecessarily complex?
What is missing?
What do you think should be changed?
Again, this is an early release and no feelings will be hurt.
You can file issues on GitHub, join the nzyme Discord or post in the discussion forums to provide your feedback or ask questions.